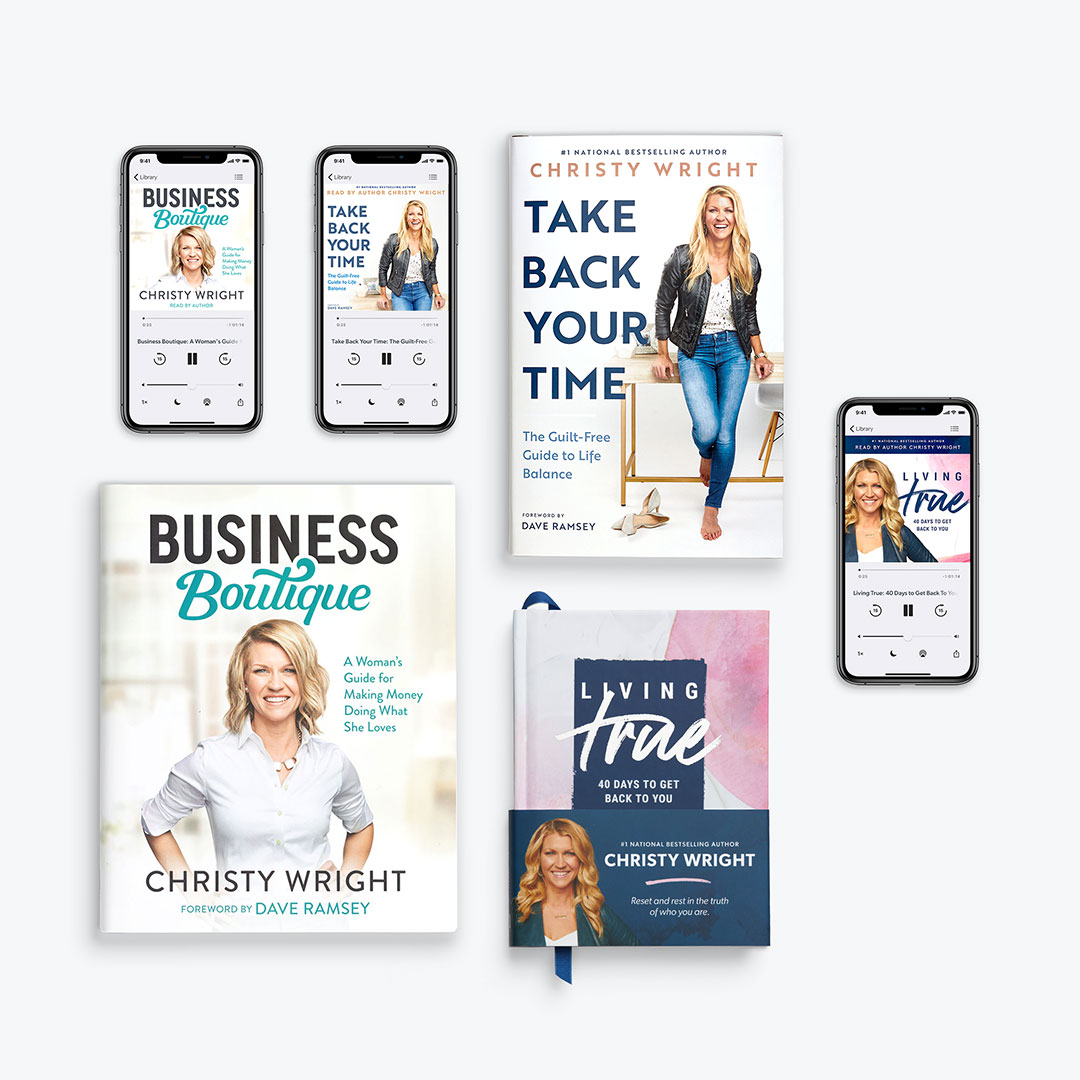 New! The Life Balance Bundle
Live a Life You're Proud Of!
Description
Are you a super mom who needs balance? Are you a woman who's ready to turn the ideas in your head into a successful business? No matter where you are in life, you can find confidence in your choices, experience peace, and get excited about the future with the Life Balance Bundle.
This super-saving bundle includes three hardcover books and three audiobooks by bestselling author Christy Wright. It's valued at $139.94, but you can get everything for just $20 while supplies last.
The Life Balance Bundle makes a perfect gift for moms, daughters, sisters, aunts—and even yourself! (It's a great way to give yourself the gift of encouragement and motivation to go after what matters to you most.)
What's Included?
Take Back Your Time

As a busy mom with three young kids and a career, national bestselling author Christy Wright knows what it's like to try to do it all and be stretched too thin. She figured out why she felt overwhelmed and out of balance. In Take Back Your Time, Christy redefines what life balance is and reveals the clear path to actually achieving your own version of balance. In this book, you'll have the tactical, step-by-step guide to take back your time the guilt-free way.

Living True: 40 Days to Get Back to You

Take Back Your Time - Audiobook

Living True: 40 Days to Get Back to You - Audiobook

Business Boutique by Christy Wright - Audiobook
Customer Ratings and Reviews
About Christy Wright
Shipping & Delivery
Physical Shipping
All physical products will be processed and ready to ship within two business days (often even faster). The total delivery time depends on the service you select and where your order is being delivered. You may see multiple shipping options to choose from during checkout. Our default choice will always be the most economical but not necessarily the fastest.
Ramsey Audiobooks App Is Available for iOS and Android
When you check out, you'll receive one email confirming your order and one email that includes a link to download the Ramsey Audiobooks app and an access code for your purchase. You'll only need to download the app once to enjoy this audiobook and all your future Ramsey audiobook purchases.
To get your audiobook, simply complete your order and then open the email with your access code. Click on Ramsey Audiobooks app for iOS or Android to download the app to your phone. Then click the access code link from your email to redeem and begin enjoying your audiobook!