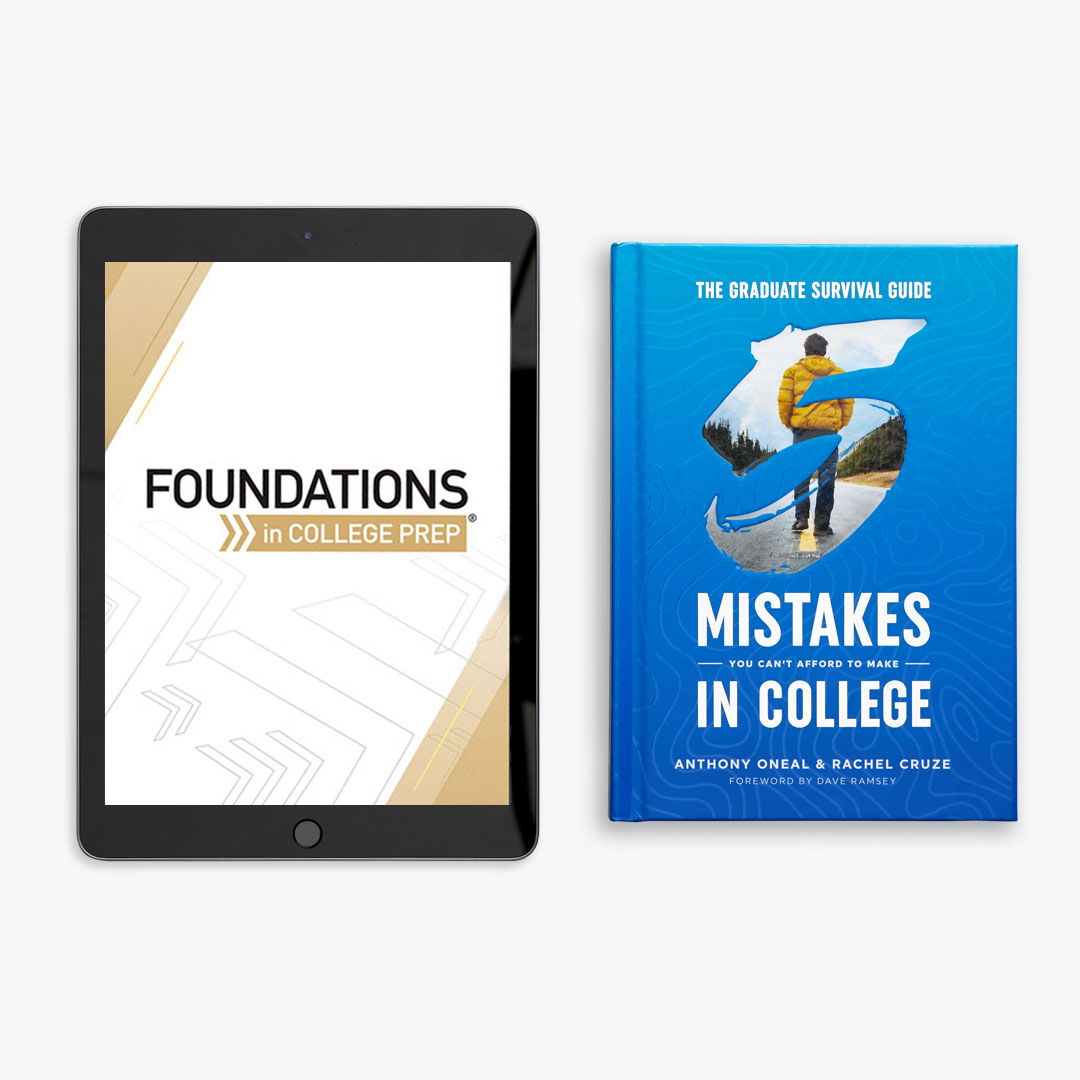 College Prep Pack
Prepare Your Kids to Never Worry About Money Again
Description
College: It's an exciting time. It's an educational time. But let's be honest—it's an expensive time. This brand-new bundle pairs together our #1 bestselling book The Graduate Survival Guide with our Foundations in College Prep for Self-Study course for teens!
In the online self-study course, Anthony ONeal shows your high schooler that graduating with a debt-free degree is possible! He debunks the myth that you need to have student loans to go to college, gives advice on how to select your dream school (spoiler alert: it's the one you can afford), and walks through his step-by-step process to start college out right. (This online course is appropriate for ages 14–18.)
In The Graduate Survival Guide, your student will learn about five mistakes to avoid making in college through authentic, real-life stories from Anthony, Rachel Cruze and others.
How It Works:
Once you purchase the course, you'll receive a link and a unique online class code. Follow the instructions on the email to register. You'll have access to the online course for one year beginning when you first redeem the class code.
If I have multiple children, can they all use the same copy of the course?
The self-study edition of the course is intended for one student because the assessments included in the course can only be completed once.
Course Features:
Fully digital content—all you need is a computer or tablet and internet access
Stand-alone chapters that can be used in any order
What's Included?
The Graduate Survival Guide

Foundations in College Prep for Self-Study
Customer Ratings and Reviews
About Anthony ONeal
About Rachel Cruze
Product Details
College Prep for Self-Study Course Details
Number of Assessments: 9
Number of Chapters:4
Certificate of Achievement: No
Hours of Video: 1.5
Approximate Time Needed to Complete the Course: 6-7 hours
Applicable for School Credit: We provide educational content. We do not provide course credit; however, you may submit a request for course credit to your teen's school or education system. Once your teen completes the course in its entirety, you may contact our team to request a certificate of completion. Please allow 2-3 business days for the delivery of the certificate. The awarding of course credit is at the school's or education system's discretion.​​​​​​
Course Overview:
Module 1: A Debt-Free Degree

Introduces the concept and purpose of going to college without loans, outlines the realities of the student loan crisis in the U.S. today, and gives an overview of the step-by-step plan that will help students graduate debt-free.

Module 2: Is College Really Worth It?

Examines the ins and outs of both traditional four-year degrees and other alternatives, like trade school, certifications, and community college. This module encourages critical thinking about students' career goals, and the types of training and education that will help them get there.

Module 3: Paying for College

Covers the financial details of going to college debt-free by exploring FAFSA, scholarships, grants, work-study, and other work options. This module also discusses college entrance exams and the key differences between the ACT and SAT.

Module 4: Six Steps to a Debt-Free Degree

Goes more in-depth on each of the six steps that are needed in order to go to college without loans: take debt off the table; create a vision; research and prep; pick an affordable school; work, save and behave; and walk the stage debt-free. Students will get clarity on what they need to do next to put this plan into action.
The Graduate's Survival Guide - Hardcover Book + DVD Details
Pages: 128
Publisher: Ramsey Press
Format: Hardcover, DVD
Release Date: April 3, 2017
Chapters: 5
Language: English
ISBN-13: 978-1942121084
Genre: Gift, Graduation
Target Audience: High School Graduates or College Students
SKU: 9781942121084OLP
TABLE OF CONTENTS
About Anthony ONeal
About Rachel Cruze
Foreword
Mistake 1 - Student Loans
Mistake 2 - Credit Cards
Mistake 3 - Dumb Choices
Mistake 4 - No Plan
Mistake 5 - No Money
Resources
FAQs
Are there assessments?
Yes! The Self-Study edition includes pre-chapter and post-chapter assessments that can be taken once. These are auto-graded, so students can see their score as soon as they finish the test.
I have multiple children. Can they all use the same copy of the curriculum?
The Self-Study edition of the curriculum is intended for one student as the assessments included in the course can only be completed once.
How long do I have to activate my course?
You can take all of the time you need to activate your course (don't forget about it though!) but once activated you have one year to complete your course before your access expires.
Shipping & Delivery
Physical Shipping
All physical products will be processed and ready to ship within two business days (often even faster). The total delivery time depends on the service you select and where your order is being delivered. You may see multiple shipping options to choose from during checkout. Our default choice will always be the most economical, but not necessarily the fastest.
Online Access Code
When you purchase a voucher item, you'll receive an email after completing your order. In this email you'll be provided both a link and a unique online access code. To access your product, click on the link and enter your unique voucher code when prompted.