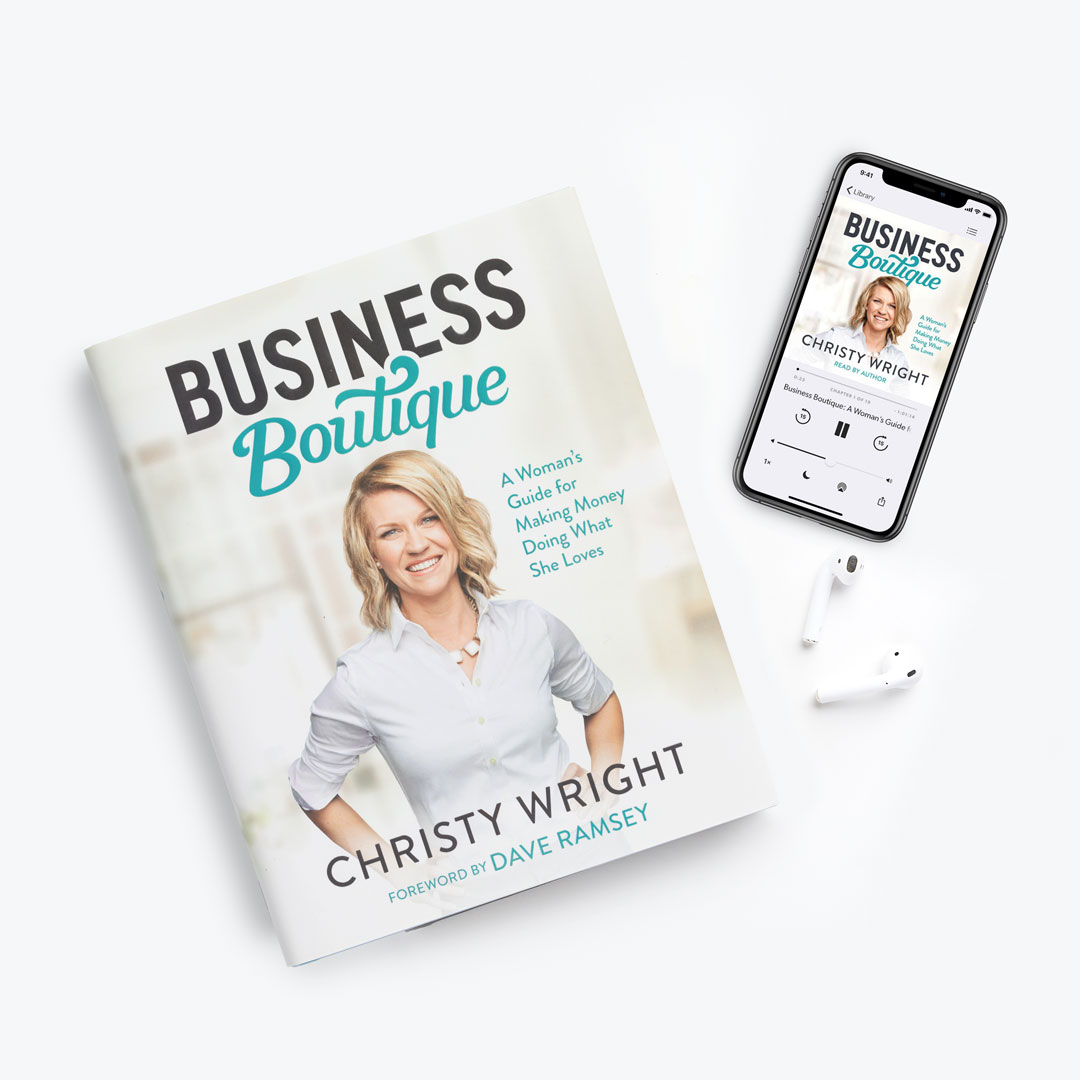 Business Boutique - Hardcover + Audiobook
A Woman's Guide for Making Money Doing What She Loves
Description
You've got the passion. This is your plan.
There's never been a better time to start your own business. But let's face it: It can be scary to put yourself out there and tackle the business side of things. Fortunately, you're not alone!
There is a movement of women stepping into their God-given gifts to make money doing what they love. If you'd like to join them, this is your handbook that will take the ideas in your head and the dream in your heart and turn them into action.
In Business Boutique, Christy Wright will:
Help you create a step-by-step, customized plan to start and grow your business.
Show you how to manage your time so you can have a business—and life—that you love.
Explain overwhelming business stuff like pricing, taxes, and budgeting in simple terms.
Teach you how to use marketing to reach the right people in the right way.
Empower you to sell your product or service with confidence.
Christy will help you get your business idea off the ground or take your existing business to the next level. You can do this. It's time for you to make money doing what you love!
Customer Ratings and Reviews
About Christy Wright
Product Details
Read By: Christy Wright
Publisher: Ramsey Press
Format: M4B Audiobook & Hardcover Book
Release Date: April 17, 2017
Length: 9 hours 1 minute
Pages: 336
Chapters: 19
Language: English
Audio ISBN-13: 9781942121060
Hardcover ISBN-13: 978-1942121039
Genre: Business, Small Business, Motivation
Target Audience: Women Who Want to Start or Grow Their Own Business
SKU: BBHCABOLP
TABLE OF CONTENTS
Introduction: You Are Not Alone
Chapter 1 - It All Starts with a Story: Finding Your Motivation
Chapter 2 - Fear is Normal: Overcoming Doubt and Eliminating Excuses
Chapter 3 - A Plan to Win: Building a Business to Last
Chapter 4 - Why Matters: Why You Do It Affects How You Do It
Chapter 5 - Permission to Dream: Creating a Vision for Where You Want to Go
Chapter 6 - From Dreaming to Doing: Setting Goals that Get You There
Chapter 7 - Play to Your Strengths: Building Your Business Around Your Life
Chapter 8 - The Love-Hate Relationship with Money: Your Guilt-Free Guide for Making More and Stressing Less
Chapter 9 - Make the Most of Your Resources: Planning Your Money, Time, Schedule,and Space
Chapter 10 - The Follow-Through: Figuring Out the Operational Side of Things
Chapter 11 - Best Business Practices: Running Your Business Like a Pro
Chapter 12 - How to Make Money at This: Understanding Profits, Pricing, and Paying Yourself
Chapter 13 - The Business Side of Things: Breaking Through the Boring Stuff
Chapter 14 - Marketing Your Business: Four Things You Need to Know to Make an Impact
Chapter 15 - The Story You're Telling: Reaching the Right People the Right Way
Chapter 16 - Making the Sale: How to Promote Your Business Without Being Pushy
Chapter 17 - Take It to the Next Level: Growing, Scaling, and Expanding Your Business
Chapter 18 - The Balancing Act: How to Build Your Business and Still Have a Life
Chapter 19 - You've Got This!
Shipping & Delivery
Physical Shipping
All physical products will be processed and ready to ship within two business days (often even faster). The total delivery time depends on the service you select and where your order is being delivered. You may see multiple shipping options to choose from during checkout. Our default choice will always be the most economical, but not necessarily the fastest.
Immediate Download (Audio)
To get your downloadable product, simply complete your order and then open the order confirmation email you will receive at checkout. Click on the link in your confirmation email and your audiobook will begin to download.
Audiobooks are delivered as M4B format, unless otherwise noted.
Additional download instructions for your specific device can be found on our Digital Downloads FAQ page