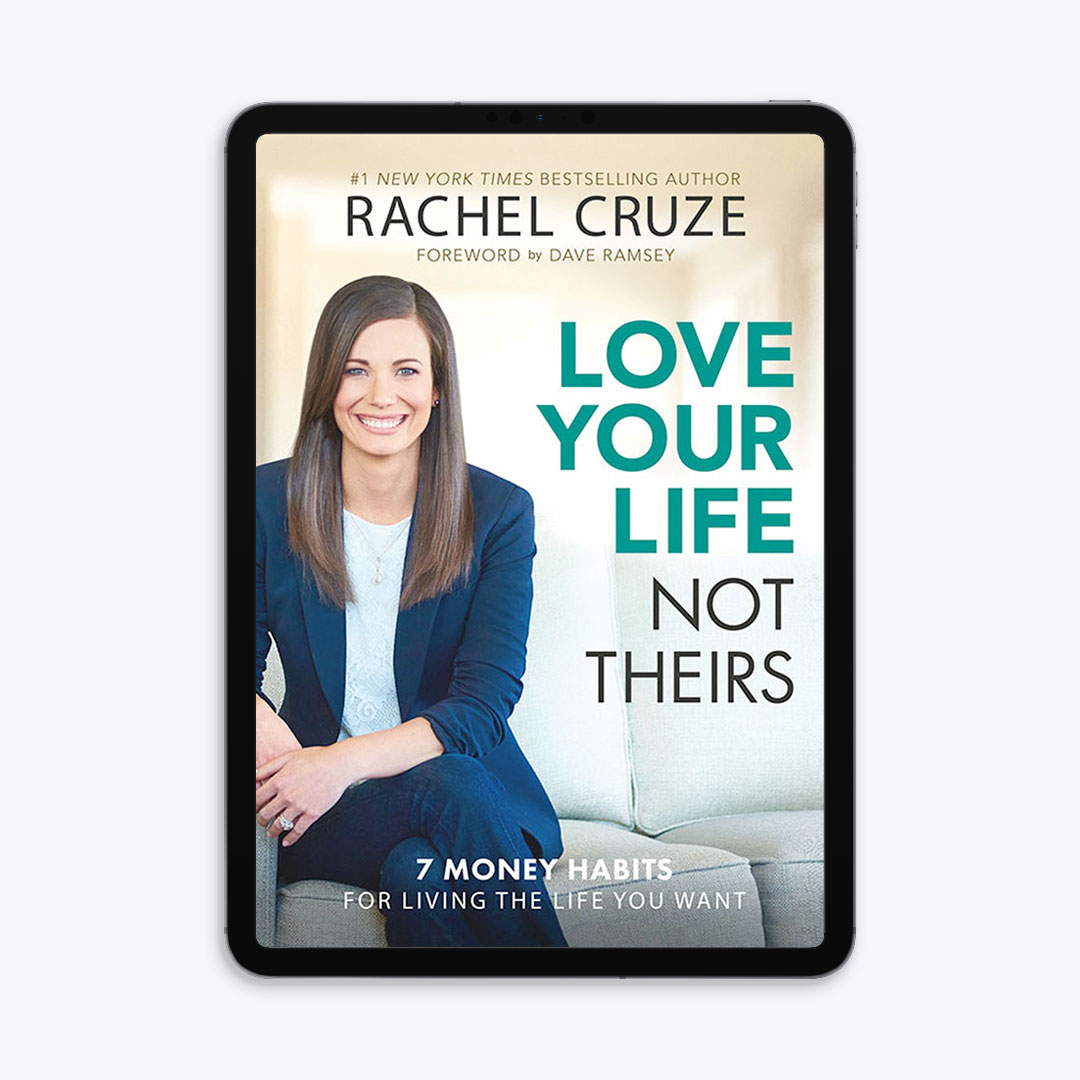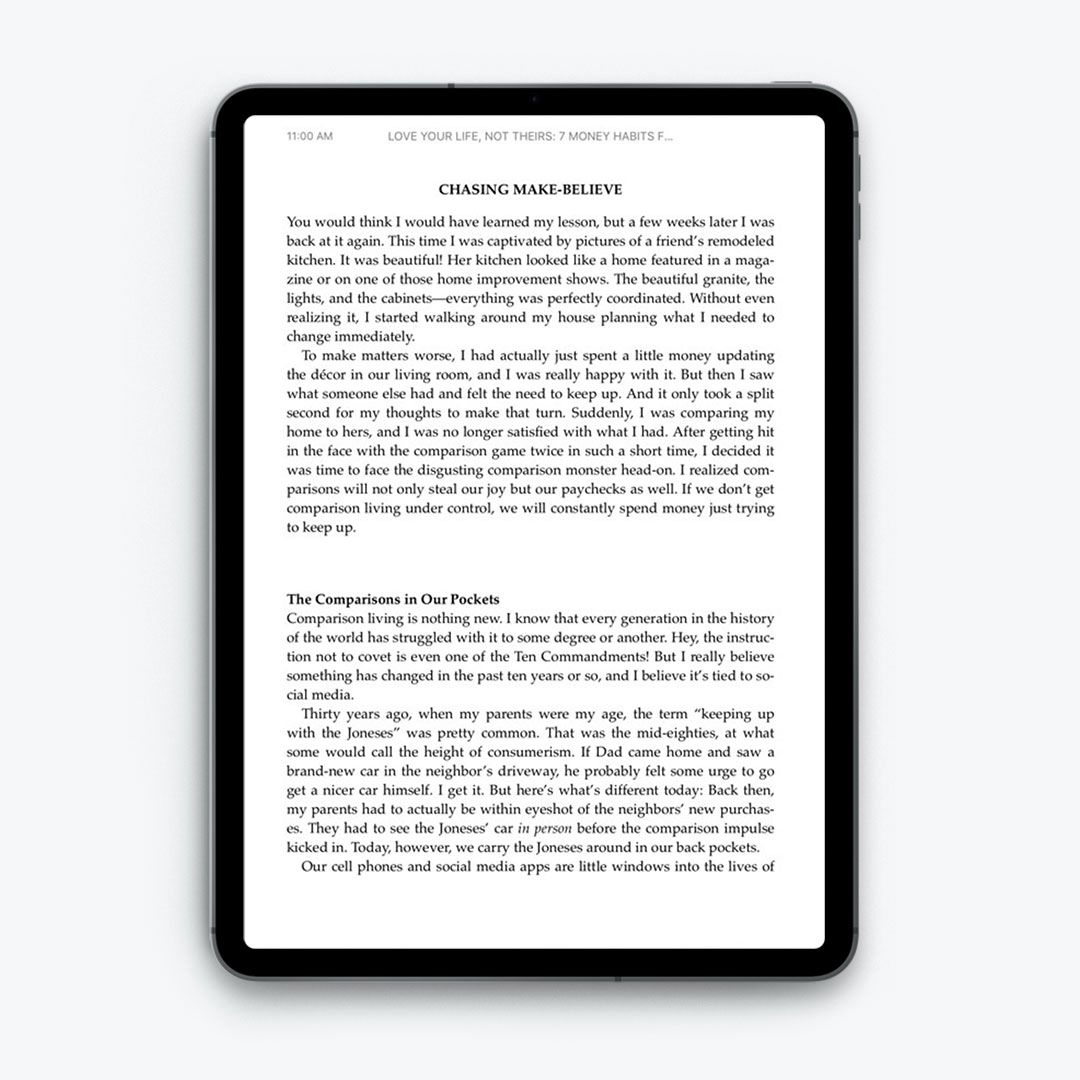 Love Your Life, Not Theirs by Rachel Cruze (E-Book)
7 Money Habits to Change Your Life!
Description
Are you ready to start living the life you want instead of chasing someone else's dream?
In Love Your Life, Not Theirs, Rachel Cruze shines a spotlight on the most damaging money habit we have: comparing ourselves to others. She then unpacks six other healthy money habits for living the life we really want without being buried under debt, stress, and worry.
Rachel shows you how to buy and do the things that are important to you—the right way. That starts by choosing to quit the comparisons, reframing the way you think about money, and developing new habits like avoiding debt, living on a plan, watching your spending, saving for the future, having healthy conversations about money, and giving.
If you are tired of trying to keep up with the Joneses and are ready to put that time and energy into living the life you want, Love Your Life, Not Theirs will show you how. Quit Comparing. Start Living.
Accolades
I've never read a book about money that takes this approach--and that's a good thing! Comparison has a way of weaving itself throughout all aspects of our lives, including our money. In Love Your Life, Not Theirs, Rachel Cruze outlines the seven money habits that really matter--and they have nothing to do with keeping up with the Joneses!
— Candace Cameron-Bure
Actress, author, and co-host of The View

Love Your Life, Not Theirs is full of the kind of practical, straightforward advice we've come to expect from Rachel Cruze. She offers guidance on paying down debt, smart saving, and the right way to talk to your spouse about money. These indispensable tips can help with day-to-day spending decisions and put you on a path to establishing healthy financial habits.
— Susan Spencer
Editor-in-Chief for Woman's Day

Cruze's self-deprecating and honest voice is a great resource for anyone wanting to take charge of their money. With humor and approachability, she helps her readers set themselves up for success and happiness, no matter what current financial state they may be in.
— Kimberly Williams-Paisley
New York Times best-selling author of Where the Light Gets In

In today's world of social media, the temptation to play the comparison game is stronger than ever. Love Your Life, Not Theirs is the perfect reminder that, when it comes to money, comparison is a game you can't win. A terrific--and much needed--read.
—Jean Chatzky
Financial Editor, NBC TODAY and Host of HerMoney with Jean Chatzky Podcast
Customer Ratings and Reviews
About Rachel Cruze
Product Details
Pages: 229
Publisher: Ramsey Press
Formats: iBooks for iPad/iPhone (ePub) and Amazon Kindle (Mobi)
Release Date: September 14, 2016
Chapters: 21
Language: English
ISBN-13: 9781938400131
Genre: Budgeting, Money Management
Target Audience: People Wanting to Learn About Creating a Budget and Avoid Comparison
SKU: 9781938400131OLP
Shipping & Delivery
Immediate Download (E-book)
To get your downloadable product, simply complete your order and then open the order confirmation email you will receive at checkout. Click on the link in your confirmation email and your E-book will begin to download.

E-Books are delivered in iBooks for iPad/iPhone (ePub) and Amazon Kindle (Mobi) formats.
Additional download instructions for your specific device can be found on our Digital Downloads FAQ page