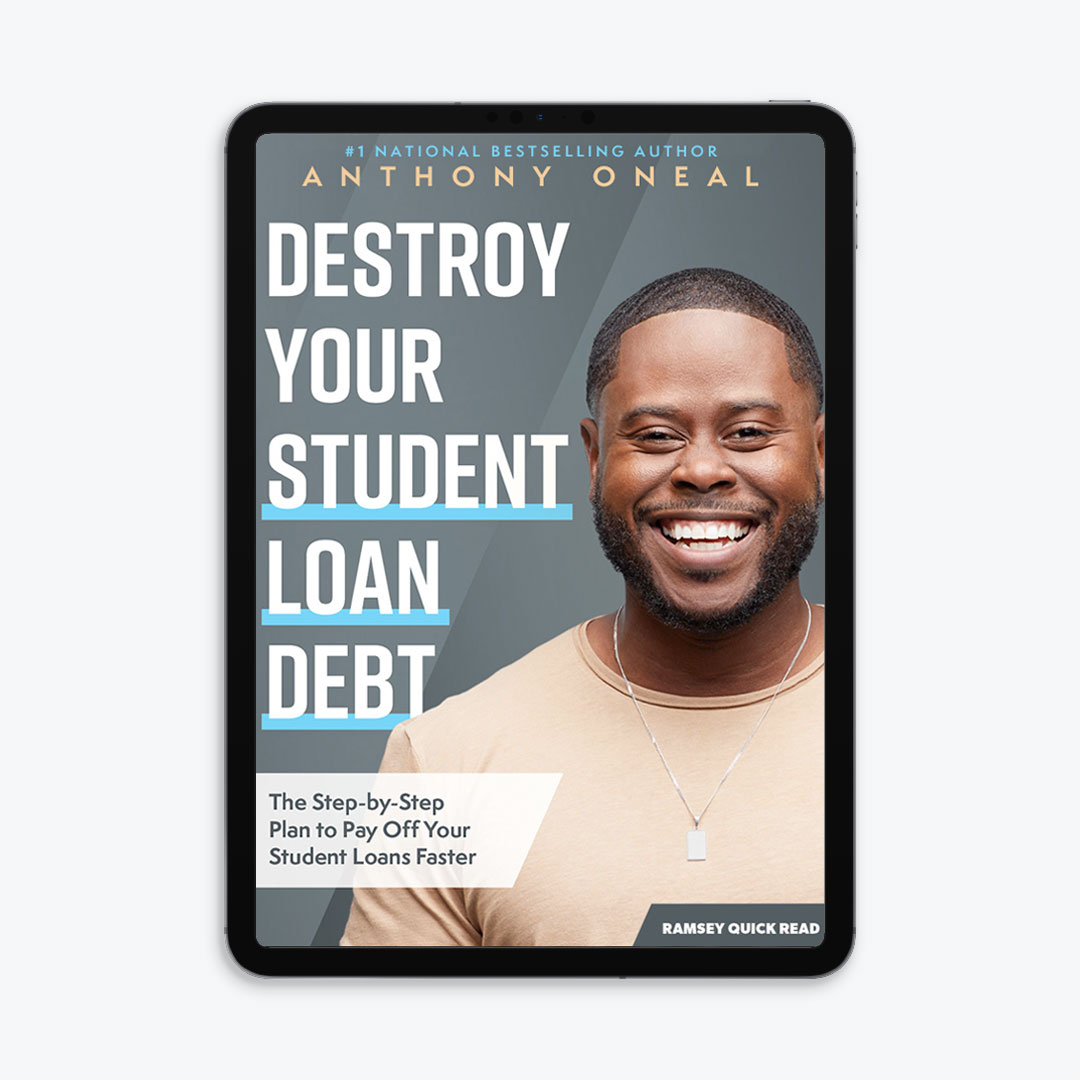 Destroy Your Student Loan Debt by Anthony ONeal (E-Book)
The Step-by-Step Plan to Pay Off Your Student Loans Faster
Upgrade and Bundle up the Best Gift for College Grads
We've bundled the key tools any young adult needs to start out right after graduation. This bundle equips them to pay off their student loans faster, find their career calling and land their dream job.
Description
If you have student loan debt and have never heard of Ramsey Solutions or the 7 Baby Steps, this 64-page Quick Read is for you.
You've been lied to: There's no such thing as good debt. Debt sucks. Period. And that includes student loan debt. No matter what you believed when you took out your loans, you need to get serious about getting rid of your debt fast, because it's costing you more than you know. That's why bestselling author Anthony ONeal wrote this motivating 64-page Quick Read e-book—to show you why you need to dump your debt fast and how to do it.
You don't have to spend decades paying off your student loans! You can destroy your debt faster and live a life of freedom.
If you're brand new to the Baby Steps plan, Anthony will walk you through Baby Steps 1 and 2 to show you how to dump your debt forever.
You'll learn:
The ugly truth about how debt hurts you
The importance of an emergency fund and how to budget (Baby Step 1)
The power of the debt snowball (Baby Step 2)
Exactly what to do to pay off your student loans—faster
How to control your money so it doesn't control you
How real people just like you paid off their debt fast
This Quick Read is based on the proven plan taught in The Total Money Makeover and The Ramsey Show. If you already know the Baby Steps, this makes for the perfect life-changing gift for grads and young adults.
You don't need relief from your debt—you need to get mad at it. Because the truth is, when you get mad enough, you can pay off your loans faster than you ever thought possible. And you'll take control of your money, and your life, for good! Don't let anything stand in the way of your future. This plan has helped millions get out of debt, and you're next. You can do this!
Customer Ratings and Reviews
About Anthony ONeal
Product Details
Pages: 64
Publisher: Ramsey Press
Format: iBooks for iPad/iPhone (ePub) and Amazon Kindle (Mobi)
Release Date: April 6, 2020
Language: English
ISBN-13: 9781942121251
Genre: Paying off Student Loans
Target Audience: People Wanting to Pay off Their Student Loans
SKU: 9781942121251OLP
TABLE OF CONTENTS
Introduction
Part One - The Problem

The Ugly Truth About the Student Loan Industry
Repayment Alternatives: Don't Believe the Hype

Part Two - The Basics

Budget Like You're the Boss--Because You Are
Baby Step 1: A $1,000 Starter Emergency Fund

Part 3 - The Debt Snowball

The Debt Snowball
How to Make More Money

Get After It!
Notes
About the Author
Shipping & Delivery
Immediate Download (E-book)
To get your downloadable product, simply complete your order and then open the order confirmation email you will receive at checkout. Click on the link in your confirmation email and your E-book will begin to download.

E-Books are delivered in iBooks for iPad/iPhone (ePub) and Amazon Kindle (Mobi) formats.
Additional download instructions for your specific device can be found on our Digital Downloads FAQ page