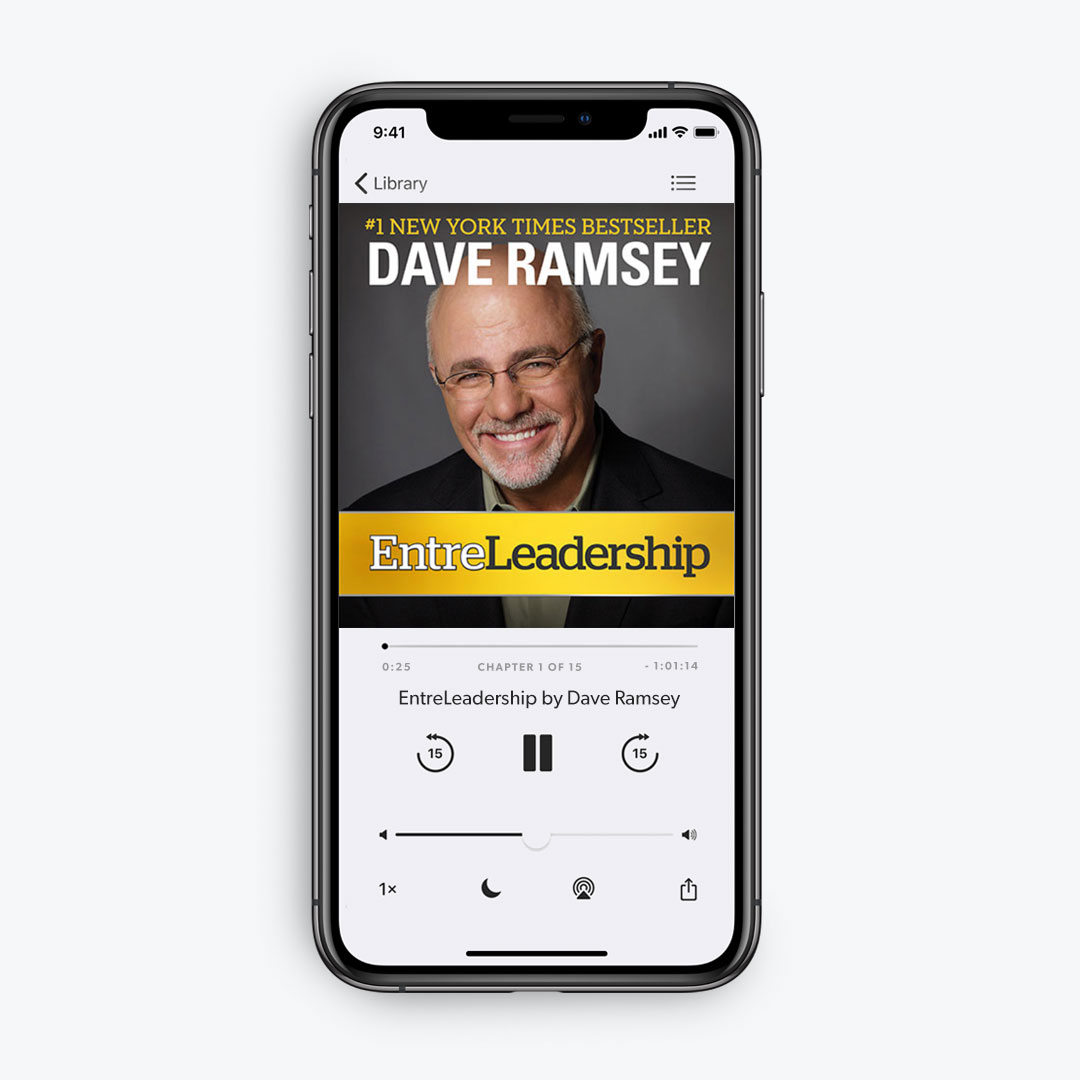 EntreLeadership by Dave Ramsey - Audiobook
Dave Ramsey's Step-by-Step Guide for Leading Your Business to Success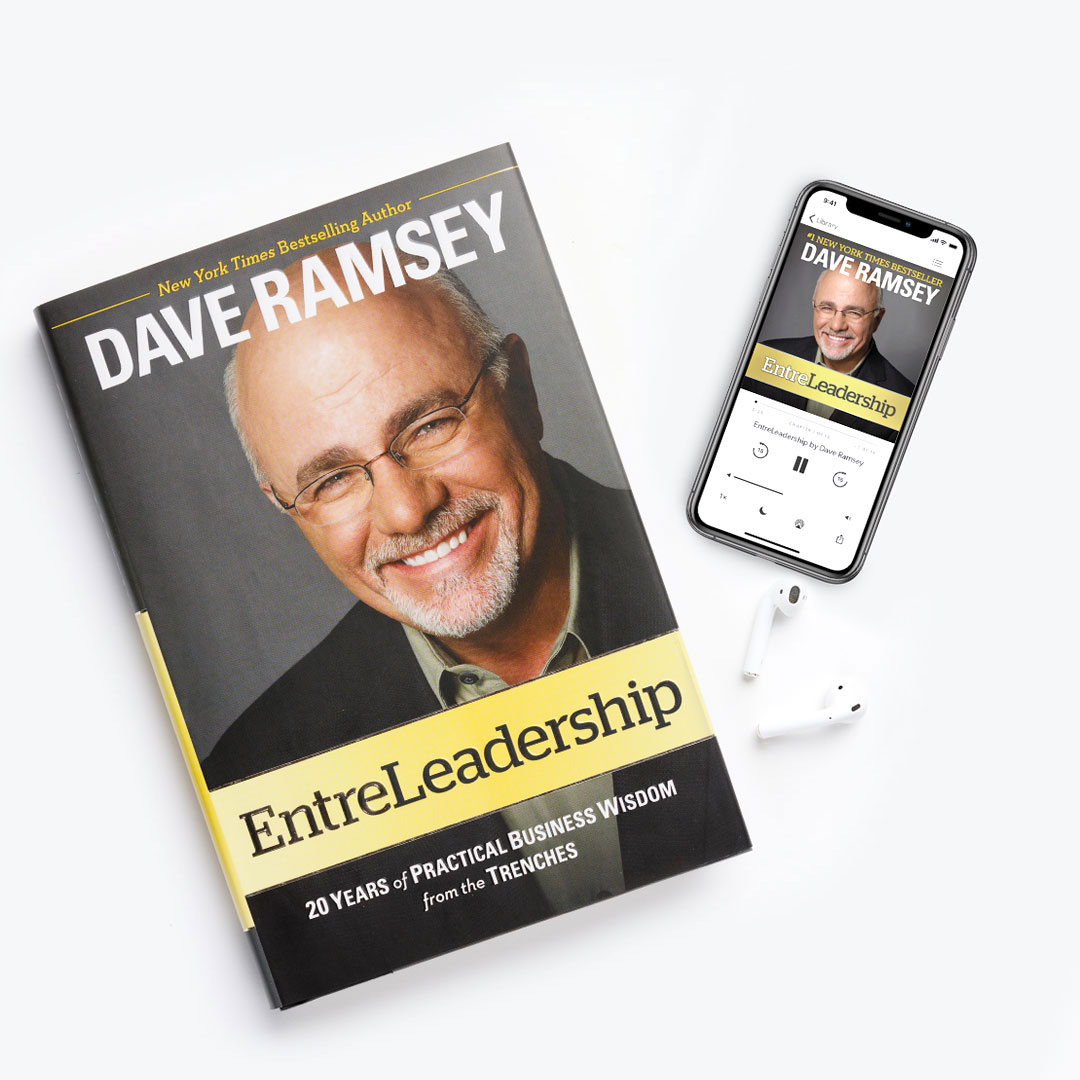 Bundle and Save!
Description
Note: This abridged audiobook is narrated by Dave Ramsey and runs 6 hours and 15 minutes. Some content (including chapter 13) has been removed for brevity.
Immediate Delivery: Your audiobook will be delivered in your order confirmation email immediately after completing your purchase.
Gifting an Audiobook? If you check "Send As A Gift" in the checkout, Audiobook links will be sent to your gift recipient. Please note, audiobooks can only be sent to one recipient per checkout. Please complete one purchase per recipient.

Dave has grown his company into a winning national brand with more than 900 team members who have impacted millions of lives. EntreLeadership is how he did it, mistakes and all. This is 30 years of real-world experience with all the sweat, tears and prayers. This is how his company has been named one of the Best Places to Work in Nashville ten times. It's proven. It's practical. And it's how you can do it too.
Whether you lead a team of two or 200, you can grow your business to where you want it to be. Reaching your dream is no longer a question of "What if we could?" You can. EntreLeadership is how.
Customer Ratings and Reviews
About Dave Ramsey
Product Details
Read By: Dave Ramsey
Format: Audiobook
Release Date: September 20, 2011
Length: 6 hours 15 minutes
Chapters: 15
Language: English
ISBN-13: 9781442340565
Genre: Entrepreneurship, Management, Business
Target Audience: Leaders Who Want to Grow Themselves, Their Teams and Their Businesses
SKU: 9781442340565OLP
TABLE OF CONTENTS
Opening Credits
Introduction: And So It Begins
Chapter 1 - EntreLeadership Defined
Chapter 2 - Start with a Dream, End with a Goal: Living Your Dreams, Visions, Mission Statements, and Goals
Chapter 3 - Flavor Your Day with Steak Sauce: Making the Most of Time Management and Organization
Chapter 4 - "Spineless Leader" is an Oxymoron: The Easier Way to Make Hard Decisions
Chapter 5 - No Magic, No Mystery: The System, the Recipe, and the Truth About Great Marketing
Chapter 6 - Don't Flop Whoppers: A Practical Guide to Launching Your Dream
Chapter 7 - Business is Easy...Until People Get Involved: Hiring, Firing, and Personality Styles
Chapter 8 - Death of a Salesman: The Art of Selling by Serving
Chapter 9 - Financial Peace for Business: Bulletproof Principles for Money, Debt, and Funding Your Future
Chapter 10 - The Map to the Party: Grasping the Undeniable Relationship Between Great Communication and Great Companies
Chapter 11 - People Matter Most: Building Unity and Loyalty with Your Best Resource
Chapter 12 - Caught in the Act: Amplifying the Success of Your Business Through Recognition and Inspiration
Chapter 14 - Show Me the Money!: Compensation Plans That Fire People Up
Chapter 15 - Mastering "the Rope": Delegation: The Best Way to Build a Business Bigger Than You
Closing Credits