It was the morning of my first full marathon. And I'd set a big goal for myself: to run the 26.2-mile race in just four hours.
I knew I could do it. I'd been training for this.
Since Nashville's Country Music Marathon falls in April, I spent the four months prior to the race bundled up in layers and running through snow-filled sidewalks. But on this day in 2009—race day—the weather forecast showed a frighteningly high heat index with record-breaking temperatures.
This would be a shock to my body. But I was confident I could still accomplish my four-hour time.
I started out strong, full of adrenaline and excitement. By mile three, I fell into my stride effortlessly. By mile six, the crowd's energy was carrying me through. By mile nine, my pace was still strong and my form was steady, but I was starting to feel the heat.
Around mile 12, things started to fall apart.

Get a FREE customized plan for your money in 3 minutes!
I began to notice the sun beating down mercilessly. The heat wouldn't stop. The suffocating humidity made it next to impossible to breathe. Sweat burned my eyes and my mouth was parched seconds after drinking water. Runners began passing out all around me as I watched ambulances pick them up off of the pavement.
By mile 15, I was walking. And by mile 19, I was scared I wasn't going to finish at all.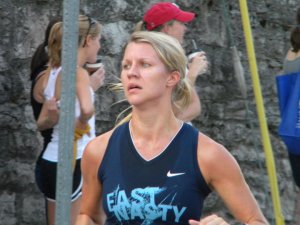 This was not part of my plan.
I eventually made it to the finish line, thirty minutes past my goal time. And I was devastated.
Sure, the course was brutal, the heat was impossible, and the runners were literally falling down all around me. But I didn't reach my goal. I realize this sounds ridiculous now, but sometimes, when we get an idea stuck in our heads, it can be hard to let it go.
I've experienced something similar many times in my life. I've often set an audacious goal for myself, and then when things don't turn out like I thought, I'm disappointed.
Before I was pregnant, I had no idea how hard pregnancy could be. I thought I would still exercise all the time, keep up with my house remodeling projects and enjoy traveling. Not only was I not working out, I wasn't moving from the couch. I didn't just neglect house projects, I couldn't even get myself a glass of water. And travel in those first few months? Out of the question.
I fought it every single day, always trying to press on and carry out the expectations I had for myself. And when I realized I couldn't, I was disappointed I couldn't do more.
I would beat myself up for not being able to push through. I would compare myself to other women who seemed to be able to do more than I could in the same situation. I was always more focused on my original plan than my newfound perspective.
I've seen a lot of people experience this. They had a plan for when they would get married. They had a plan for how their career would unfold. They had a plan for when they would have kids. Or maybe they just had a plan for what they were going to accomplish on Saturday.
When these plans don't turn out like we expect, we beat ourselves up. But perhaps we're missing the point. Because it's through these surprising twists and turns that we gain perspective. And it's through this new perspective that God invites us to allow grace in.
So instead of demanding impossible standards of yourself, find some grace for yourself. Find grace as you walk when you planned to run, as you sleep when you planned to clean, and as you stay home when you planned to show up. Find grace for yourself.
Plans are a great guide, but don't let your plans get in the way of your perspective.
Did you find this article helpful? Share it!