So, maybe you don't make the same amount of money every paycheck. If that's you, you aren't alone. Plenty of people work hourly or commission-based jobs, or have side gigs that change up their income every month. In the budgeting world, we call that irregular income, and it's pretty common.
But you can—and should—budget every month, irregular income or not. It takes a little getting used to, but it isn't hard if you follow these three steps.
1. Start with your lowest monthly income estimate.
If you've got an irregular income, you should set up your budget based on your lowest monthly estimate. It's easier to start low than to start with an average. Why? Because if you budget for the smallest amount, you can always go up from there!
To find this number, check out your pay stubs from the last year and find the lowest one in the bunch. If this is your first time working on commission or living on an irregular income, estimate what your lowest month will look like. That's what you should put in as your income when you set up your budget.

Start budgeting with EveryDollar today!
If you've got Ramsey+ (which has the premium version of EveryDollar), it's even easier to find out your lowest monthly income. Just check out the Monthly Income report on your Insights page, and you'll know that number in seconds.
Once you've got your number, use that to build your budget. You'll do this every month before the month begins. If you're using EveryDollar, here's how:
Click Add Paycheck in the Income budget category.
Label the check as Paycheck 1, Paycheck 2 or your employer's name—whatever works best for you.
Remember, you're putting in that lowest monthly income. You'll see what to do if your income is different from the plan in a moment.

2. List your expenses.
Next, list out your expenses. Start with the essentials (what we call the Four Walls): food, utilities, shelter and transportation. Be sure to also add giving and insurance, plus any debt payments or savings goals you have. After that, you can budget for the nonessentials like TV streaming services, restaurants, adult kickball league fees, subscription boxes and personal spending.
But remember—if you have an irregular income, you may not be able to enjoy certain extras every month. For example, if you have a month of lower income, that might mean you have to cut spending in places like your entertainment line. Maybe this month you're renting a movie and getting frozen pizzas for home instead of going out for dinner and a movie. You have to cover your needs before your wants.
Set up budget lines for each of your expenses and group them into budget categories to help you keep track of your spending. In EveryDollar, you can customize your budget categories and lines with names that suit you. (You can even add emojis!)
To add a category, go to the desktop version of your budget and follow these steps:
Scroll to the bottom of your budget.
Click Add Group.
Click Untitled and name your category.
You can add a budget line on your desktop or phone like this:
Find the category the line should fall under.
Click Add Item.
Click Label and name your line.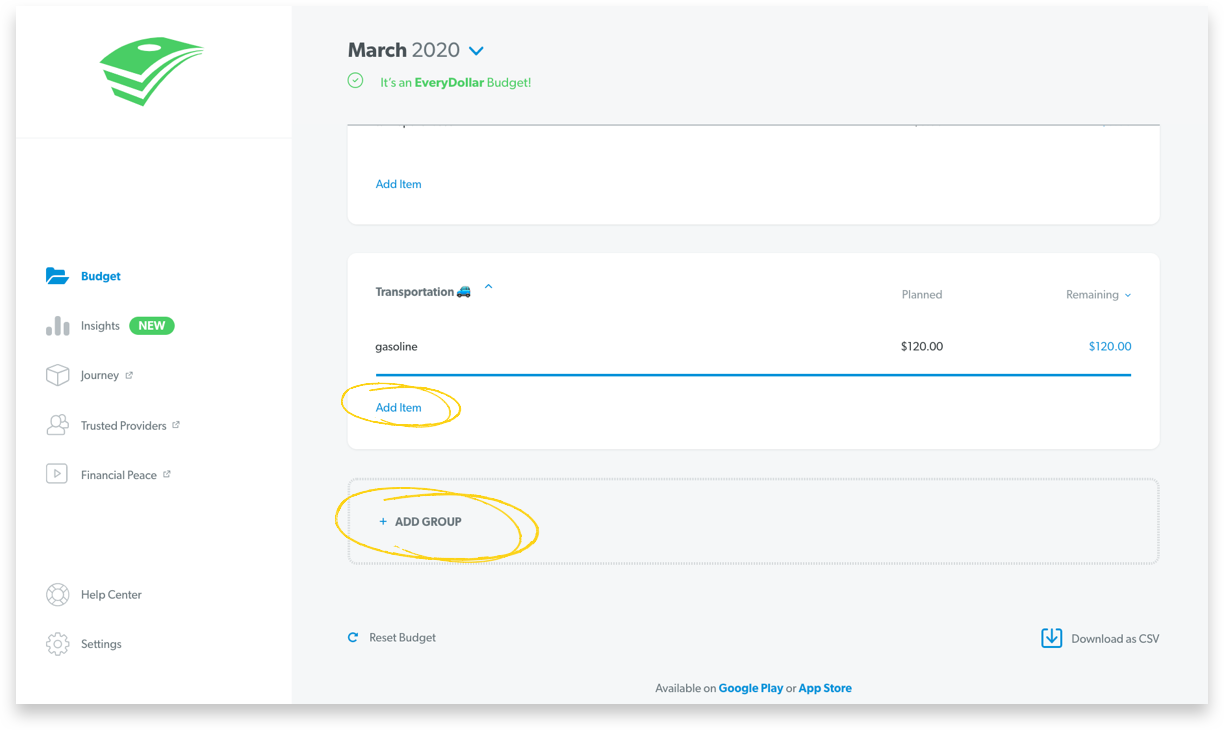 3. Make adjustments.
The key to winning with budgeting on an irregular income is being flexible and staying on top of it. Adjust as you get paid. If your income ends up being higher than you planned, make sure you add it to your budget. So, if you set your monthly income to $4,500 but actually made $5,000, go back and add that extra $500 in as income. Just adjust your planned income to what you actually made! And do a happy dance. Because the extra income means you can throw more money at your current Baby Step.
In EveryDollar, you'll simply do this:
Add a new Transaction for your paycheck.
Mark it as Income.
Drag it to your Income budget line.
Adjust your planned income to what you actually made. (If you made more than planned, a note will show up at the top of your budget telling you how much you have left to budget.)
Put all that money to good use in other places in your budget.
If you have EveryDollar Plus, you can skip steps one and two. Your bank is synced, so your transactions all stream in on their own!


Remember, anything worth winning takes work. So, if you want to win with money—you'll have to work at it. It usually takes around three months to get comfortable with budgeting, no matter your income. So keep going. You really can do this.
We'll be honest: It's way easier to budget well when you've got a budgeting tool. And it's way, way easier when that tool is mobile and was created specifically to help you take on those Baby Steps.
That's EveryDollar. Download it today so you can start budgeting better and crushing those goals even quicker.
Click for even more content to help you through these tough times