Spend & Save the Ramsey Way
A new banking experience that helps you attack your money goals with Gazelle intensity
Banking Services provided by Pathward, N.A., Member FDIC

How Is Gazelle Different?
Banking should work for you. Your goals. Your money. The life you want and deserve. We want to equip you with the tools—including the right kind of bank—to make your money go further, faster. Join the waitlist now for exclusive, early access to a whole new way of banking.

What You'll Get With Gazelle

No monthly charges. No minimum balance. Ever.

We release the funds as soon as we
get them, up to two days early.

Get the cash you need without
fees at over 32,000 locations.
You'll get cash back based on how you shop.

Get top-notch support from real
people who care about you and
your goals.

Your money is FDIC insured up to
$250,000 with our banking partner
Pathward.
Why Are We Creating Gazelle?
We're creating Gazelle—a new banking experience1 that aligns with the debt-free principles we teach. To help you outrun the normal, debt-driven banking experience. To get to your goals faster. To really win with your money. Because you're doing the hard work to live like no one else. A world-class effort deserves a world-class experience.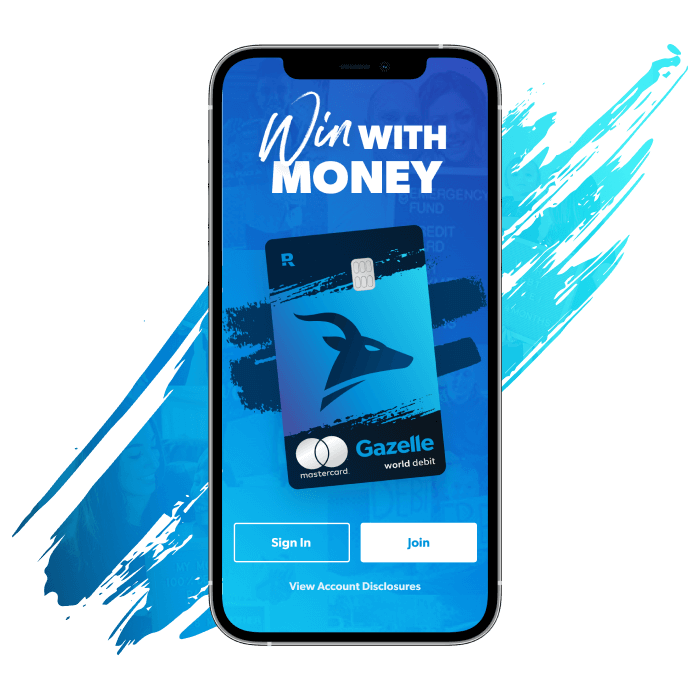 Frequently Asked Questions
What is the Gazelle App again?

We are the digital banking experience that helps you spend and save the Ramsey way. Banking services provided by Pathward N.A., Member FDIC.

When will I get my debit card?

Once you sign up, you will receive your Gazelle World Debit Card within 7 - 10 days.

How much do you want me to use my Gazelle card?

We would love you to use it as much as you can - but ideally 10 -20 times per month would be great!

How do I get money into my Gazelle App?

You will be able to link your current bank account inside Gazelle and move money8 into Gazelle anytime! You can even change your direct deposit with your Employer to move a specific amount each payday. And if you do that, you will get paid up to 2 days early!4

How will I give my feedback during the beta?

You can give us feedback if you run into a problem, report a bug, or to give us your ideas for we could make Gazelle better at gazelle.help@ramseysolutions.com

Is my money safe?

Great question and yes, it is! We are using encryption to help protect your data. Plus, your money is FDIC-insured7 through our partner bank.

What if I have questions?
Join our waitlist to be in our upcoming beta.
1 Banking services provided by Pathward, N.A., Member FDIC.
2 Pathward, N.A., and Mastercard are not affiliated in any way with this statement.
3 Other fees may apply, see your Deposit Account Agreement for details.
4 Faster funding claim is based on a comparison of the Pathward, National Association, policy of making funds available upon receipt of payment instructions versus the typical banking practice of posting funds at settlement. Fraud prevention restrictions may delay availability of funds with or without notice. Early availability of funds requires payor's support of direct deposit and is subject to the time of payor's payment instruction.
5 No ATM owner surcharge or ATM Cash Withdrawal Fees for domestic ATM withdrawals at MoneyPass ATMs ("in-network ATMs"). Visit the Gazelle Mobile app for a list of in-network ATMs. All other ATMs may apply an owner's surcharge fee in addition to the ATM Cash Withdrawal Fee disclosed in your Deposit Account Agreement.
6 Netspend Payback Rewards is an optional program. Reward offers are based on individual shopping habits. Cash back rewards are credited to your Account and are not available in the form of a check or other direct payment method. See the program FAQs and Terms and Conditions in the Gazelle app for additional details about how and when you get rewarded. Program sponsor: Netspend Corporation. Pathward, N.A., and Mastercard are not affiliated in any way with this program and do not endorse or sponsor this program.
7 Upon successful activation and registration of the Account, funds on deposits at Pathward, N.A., Member FDIC, are insured up to the standard maximum deposit insurance limit. Coverage limit is subject to aggregation of all of Accountholder's funds held on deposit at Pathward, N.A.
8 Bank Transfer is a money transfer service provided by Netspend Corporation (NMLS# 906983). See netspend.com/licenses.
Gazelle is a demand deposit account established by Pathward, National Association, Member FDIC, and the Mastercard Debit Card is issued by Pathward, N.A., pursuant to license by Mastercard International Incorporated. Netspend is a service provider to Pathward, N.A. Certain products and services may be licensed under U.S. Patent Nos. 6,000,608 and 6,189,787.

Mastercard® and the circles design are registered trademarks of Mastercard International Incorporated.
©2022 Netspend Corporation. All rights reserved worldwide. Netspend is the federally registered U.S. service mark of Netspend Corporation. All other trademarks and service marks belong to their owners.